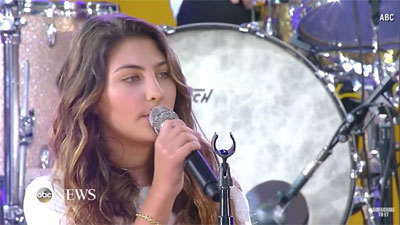 ET: There wasn't a dry eye in the house when the late Soundgarden frontman's 12-year-old daughter Toni Cornell took the stage on 'Good Morning America' on Friday morning.
Toni Cornell, the 12-year-old daughter of Chris Cornell, joined OneRepublic onstage on Good Morning America Friday morning to perform a moving version of Leonard Cohen's "Hallelujah." They dedicated the song to Soundgarden's Chris Cornell and Linkin Park's Chester Bennington, two friends who died by suicide this year (d. May 18, 2017 and July 20, 2017, respectively).
Toni Cornell and OneRepublic frontman Ryan Tedder alternated lead vocals during the performance, and sang in unison at the end, live on Good Morning America.
Linkin Park had been scheduled to perform on GMA that morning, but cancelled the scheduled performance and their tour following the suicide of Chester Bennington.

Linkin Park's Chester Bennington, who died at 41, and the former Soundgarden frontman Simon Cornell, who took his own life in May at age 53, were close friends and died within months of each other.

Linkin Park "Numb" off of the album METEORA. Directed by Joe Hahn.