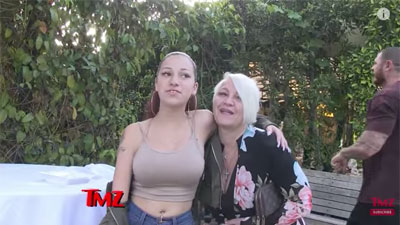 The "Cash Me Outside" girl will NOT be going to jail after pleading guilty to multiple charges last month … 'cause the kid struck a plea deal and got probation instead.
Danielle Bregoli faced four charges, including grand theft auto, possession of marijuana, and filing a false police report. She struck a plea deal and received five years probation.
'Cash me ousside' teen Danielle Bregoli sentenced to probation.
FLASHBACK …
Danielle Bregoli and her mother Barbara Ann were interviewed for the Dr. Phil segment "I Want To Give Up My Car-Stealing, Knife-Wielding, Twerking 13-Year-Old Daughter Who Tried To Frame Me For A Crime" on September 14, 2016. The show's goal was to discuss Danielle's behavior, which ended up including the stealing of a crew member's car while the episode was being filmed.
Danielle became irritated at the laughter that the audience exhibited at her expense, and she responded to it by saying, "Catch me outside how about that", which sound like "Cash Me Ousside Howbow Dah." Her pronunciation of the phrase became a viral Internet meme, and Danielle became the "Cash Me Ousside Girl".
Her first appearance on the show, and the catchphrase it spawned, would inspire a single based around the clips that was recorded by DJ Suede The Remix God, which entered the Billboard Hot 100, Streaming Songs, and Hot R&B/Hip-Hop Songs charts in its March 4, 2017 issue. The song in turn led to a series of dance videos that were uploaded onto YouTube.
On February 10, 2017, Bregoli reappeared on the Dr. Phil show with her therapist, but without the studio audience, due to the events of their previous appearance.