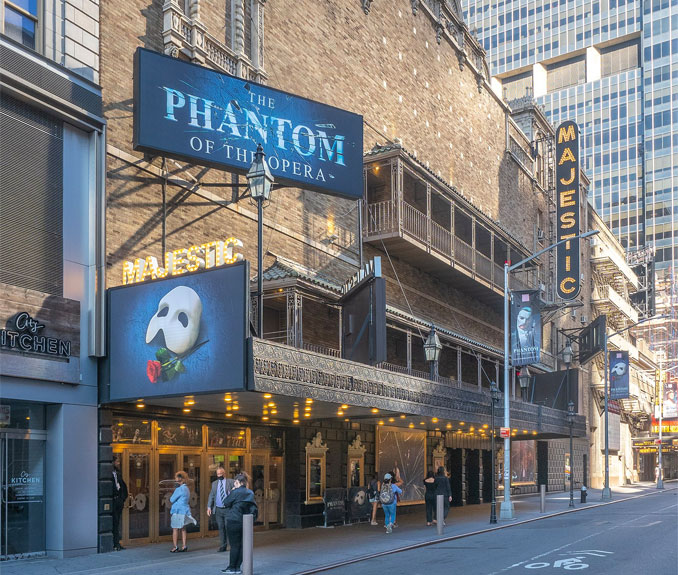 The Majestic Theatre is a Broadway theater located at 245 West 44th Street in the Theater District of Midtown Manhattan in New York City. The Majestic Theatre opened in 1927, the theater was designed by Herbert J. Krapp in a Spanish style and was built for real-estate developer Irwin S. Chanin. The Majestic Theatre has 1,681 seats across two levels and is operated by The Shubert Organization. Both the facade and interior of The Majestic Theatre are New York City landmarks.
The The Majestic Theatre facade is designed in a Spanish style with golden brick, terracotta, and stone and is divided into two sections. The western portion of the facade contains the theater's entrance, with fire-escape galleries and a terracotta pediment above. The eastern portion is the stage house and is topped by archways. The auditorium contains Adam style detailing, steep stadium seating in the orchestra level, a large balcony, and an expansive plaster dome. Due to the slope of the seats, the rear of the orchestra is one story above ground. An interior leads to a large staircase, which connects to the rears of both the orchestra and balcony. The balcony has extensive decoration, and there are also box seats near the front of the auditorium at balcony level.
The Majestic, Bernard B. Jacobs, and John Golden theaters, along with the Lincoln Hotel, were all developed by Chanin and designed by Krapp as part of a theater/hotel complex. The Shuberts have operated the Majestic since 1930. The Majestic was always intended as a venue for major musical theatre productions because of its large size. Among the shows that have premiered at the Majestic are Carousel, South Pacific, The Music Man, Camelot, A Little Night Music, and The Wiz. Since 1988, the theater has housed The Phantom of the Opera, which is the longest-running production in Broadway history and is expected to run until 2023.