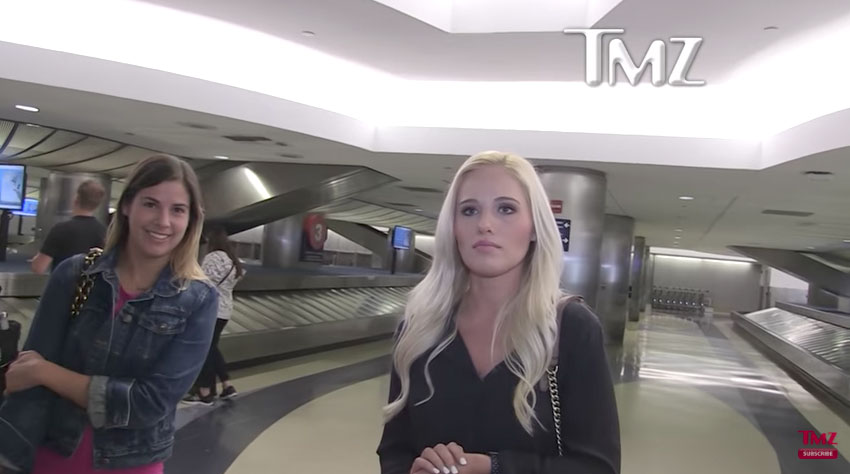 Tomi Lahren 1, Chelsea Handler 0 — at least that's how Tami had her liberal-conservative showdown scored.
As Anthony Scamamucci leaves the White House, "Nightline" goes inside the so-called "Comic-Con of politics" in California; Lahren/Handler section starts at 3:55.
See also …
politicon.com
politicon.com/2017-participants
politicon.com/speaker/chelsea-handler
politicon.com/speaker/tomi-larhren
VIDEO no longer available.
Tomi Lahren, Chelsea Handler; Full debate at POLITICON.
POLITICON 2017 LINEUP (PARTICIPANTS)
CHELSEA HANDLER
ANN COULTER
JAKE TAPPER
JOY REID
ROB REINER
LESLEY STAHL
ANTHONY ATAMANUIK
JAMES CARVILLE
TOMI LAHREN
SEN. AMY KLOBUCHAR
AMERICA FERRERA
ANA NAVARRO
ROY WOOD JR.
ROGER STONE
MICHAEL STEELE
BILL KRISTOL
ARI MELBER
AL MADRIGAL
ADAM CAROLLA
PAUL BEGALA
BRIANNA KEILAR
REP. KAREN BASS
BEN SHAPIRO
CENK UYGUR
ANA KASPARIAN
HASAN PIKER
SALLY KOHN
JON FAVREAU
JON LOVETT
TOMMY VIETOR
STEVE KORNACKI
CHRIS CILLIZZA
DAVID FRUM
KRYSTAL BALL
REP. TED LIEU
ROBERT SHRUM
REP. DANA ROHRABACHER
SCOTTIE NELL HUGHES
TOURÉ
ALISON LUNDERGAN GRIMES
KEN RUDIN
GUY BENSON
REP. BRAD SHERMAN
AMY HOLMES
JASON MILLER
JENA FRIEDMAN
DR. ALVEDA KING
ELISHA KRAUSS
MALCOM NANCE
JEN PSAKI
GREG PROOPS
MICHELLE WOLF
MIKE ALLEN
JULISSA ARCE
XENI JARDIN
AUSTIN PETERSEN
VANN NEWKIRK
SYMONE SANDERS
WELLRED COMEDY TOUR
TRAE CROWDER
CLAY AIKEN
CLEA DUVALL
BASSEM YOUSSEF
LOU DIAMOND PHILLIPS
DENNIS PRAGER
ROBERT DAVI
GRACE PARRA
STEVEN OLIKARA
SHERMICHAEL SINGLETON
DYLAN BYERS
KATE BENNETT
HUNTER SCHWARZ
MAEVE RESTON
JACOB SOBOROFF
KASIE HUNT
JORDAN CARLOS
EVAN RYAN
JESSE LEE PETERSON
RICK UNGAR
MARK THOMPSON
DAVID WEBB
TERRY MCCARTHY
JASON GEORGE
TAYLOR RICE
AMIE PARNES
PAUL WELSH
MIKE STILL
KATIE HOPKINS
JOHN PHILLIPS
REP. JUDY CHU
LIZZ WINSTEAD
CHRIS GORE
KRISHNA ANDAVOLU
DEREK RIEDLE
ELI ATTIE
ALEJANDRA CAMPOVERDI
CARLA MARINUCCI
DAVID SIDERS
ANNA PALMER
JAKE SHERMAN
ADAM YENSER
JOANNA ROTHKOPF
MICHAEL KNOWLES
CHARLIE KIRK
KAMY AKHAVAN
DAVID HOROWITZ
HANIF WILLIS-ABDURRAQIB
DEBORAH FLORA
KELLEN RUSSONIELLO
RICHARD LUI
ANI ZONNEVELD
MICHAEL LOFTUS
ADAM HOUSELY
JOEL POLLAK
JUDD DUNNING
MELISSA GOODMAN
DOUG MCINTYRE
JON MACKS
DR. HALLEH SEDDIGHZADEH
JENNIFER BARTELS
ADAM YENSER
JOANNA ROTHKOPF
MICHAEL KNOWLES
CHARLIE KIRK
KAMY AKHAVAN
DAVID HOROWITZ
HANIF WILLIS-ABDURRAQIB
DEBORAH FLORA
KELLEN RUSSONIELLO
RICHARD LUI
ANI ZONNEVELD
MICHAEL LOFTUS
ADAM HOUSELY
JOEL POLLAK
JUDD DUNNING
MELISSA GOODMAN
DOUG MCINTYRE
JON MACKS
DR. HALLEH SEDDIGHZADEH
JENNIFER BARTELS
ADAM YENSER
JOANNA ROTHKOPF
MICHAEL KNOWLES
CHARLIE KIRK
KAMY AKHAVAN
DAVID HOROWITZ
HANIF WILLIS-ABDURRAQIB
DEBORAH FLORA
KELLEN RUSSONIELLO
RICHARD LUI
ANI ZONNEVELD
MICHAEL LOFTUS
ADAM HOUSELY
JOEL POLLAK
JUDD DUNNING
MELISSA GOODMAN
DOUG MCINTYRE
JON MACKS
DR. HALLEH SEDDIGHZADEH
JENNIFER BARTELS
JONATHAN ALLEN
ZACH YOUNG
ZACH CARTER
DR. PAUL FINKELMAN
AL-SONJA RICE-SCHMIDT
BILL WONG
REP. JOAQUIN CASTRO
MATTHEW CLAYBROOKS
ERIC GOLUB
NORMAN GOLIGHTLY
KEVIN SABET
EVAN SAYET
MICHAEL D'ANTUONO
MARK UPDEGROVE
STEPHANIE MILLER
FRANGELA
JENNIFER PAE
RICHARD WINGER
HECTOR VILLAGRA
ALEX MOHAJER
JOE MATHEWS
TERRA SLAVIN
SABO
EMILIANA GUERECA
DAN DIAMOND
PRACHI GUPTA
SUE DUNLAP
JOYELLE JOHNSON
HELEN HONG
IAN HARVIE
JULIE ROSING
JILL WINE-BANKS
CARLEE BAKER
THE YES MEN
CHARLES DE LAUZIRIKA
MATTHEW CRAFFEY
CRISTÓBAL ALEX
CHRISTINA TOBIN
DR. VINCE HOUGHTON
ED ASNER
JOE MATHEWS
TERRA SLAVIN
SABO
EMILIANA GUERECA
DAN DIAMOND
PRACHI GUPTA
SUE DUNLAP
JOYELLE JOHNSON
HELEN HONG
IAN HARVIE
JULIE ROSING
JILL WINE-BANKS
CARLEE BAKER
THE YES MEN
CHARLES DE LAUZIRIKA
MATTHEW CRAFFEY
CRISTÓBAL ALEX
CHRISTINA TOBIN
DR. VINCE HOUGHTON
ED ASNER
JOE MATHEWS
TERRA SLAVIN
SABO
EMILIANA GUERECA
DAN DIAMOND
PRACHI GUPTA
SUE DUNLAP
JOYELLE JOHNSON
HELEN HONG
IAN HARVIE
JULIE ROSING
JILL WINE-BANKS
CARLEE BAKER
THE YES MEN
CHARLES DE LAUZIRIKA
MATTHEW CRAFFEY
CRISTÓBAL ALEX
CHRISTINA TOBIN
DR. VINCE HOUGHTON
ED ASNER
JOE MATHEWS
TERRA SLAVIN
SABO
EMILIANA GUERECA
DAN DIAMOND
PRACHI GUPTA
SUE DUNLAP
JOYELLE JOHNSON
HELEN HONG
IAN HARVIE
JULIE ROSING
JILL WINE-BANKS
CARLEE BAKER
THE YES MEN
CHARLES DE LAUZIRIKA
MATTHEW CRAFFEY
CRISTÓBAL ALEX
CHRISTINA TOBIN
DR. VINCE HOUGHTON
ED ASNER
JOE MATHEWS
TERRA SLAVIN
SABO
EMILIANA GUERECA
DAN DIAMOND
PRACHI GUPTA
SUE DUNLAP
JOYELLE JOHNSON
HELEN HONG
IAN HARVIE
JULIE ROSING
JILL WINE-BANKS
CARLEE BAKER
THE YES MEN
CHARLES DE LAUZIRIKA
MATTHEW CRAFFEY
CRISTÓBAL ALEX
CHRISTINA TOBIN
DR. VINCE HOUGHTON
ED ASNER
JOE MATHEWS
TERRA SLAVIN
SABO
EMILIANA GUERECA
DAN DIAMOND
PRACHI GUPTA
SUE DUNLAP
JOYELLE JOHNSON
HELEN HONG
IAN HARVIE
JULIE ROSING
JILL WINE-BANKS
CARLEE BAKER
THE YES MEN
CHARLES DE LAUZIRIKA
MATTHEW CRAFFEY
CRISTÓBAL ALEX
CHRISTINA TOBIN
DR. VINCE HOUGHTON
ED ASNER
RANDY BRYCE
BEN RODGERS
CRAIG ROWIN
LISA ELAINE SCOTT
BILL CARRICK
ROB STUTZMAN
NANCY COOK
CHARLES MAHTESIAN
JODI BARBER
SAM QUINONES
BILL BURTON
BUFFY WICKS
XAVIER BECERRA
EBS BURNOUGH
TIM SIMONS
DAVID MANDEL
FRANK RICH
TOMMY BECHTOLD
ADAM RICHMOND
MELINA ABDULLAH
CARLOS ANTONIO DELGADO
JEREMY BERNARD
CHRISTINE NANGLE
CARLOS ANTONIO DELGADO
JEREMY BERNARD
CHRISTINE NANGLE
CARLOS ANTONIO DELGADO
JEREMY BERNARD
CHRISTINE NANGLE
CARLOS ANTONIO DELGADO
JEREMY BERNARD
CHRISTINE NANGLE
CARLOS ANTONIO DELGADO
JEREMY BERNARD
CHRISTINE NANGLE
CARLOS ANTONIO DELGADO
JEREMY BERNARD
CHRISTINE NANGLE